SPECTRAL.LASH+®
Wimpernwachstumsförderndes Serum
Spectral.LASH+ ist ein Serum für die Behandlung von Defizits in Länge, Menge und Dichte der Wimpern. Diese klinisch getestete dermatologische Pflege profitiert vom neuesten wissenschaftlichen Stand der Biotechnologie, um das Wachstum der Wimpern zu fördern. Es handelt sich um eine bahnbrechende Formel, die für dichtere, dickere Wimpern sorgt.
Mehr Dichte nach kurzer Zeit
Spectral.LASH+ sorgt für längere, dichtere Wimpern nach nur 4 Wochen. Für ein ausgezeichnetes Ergebnis binnen kurzer Zeit muss es lediglich auf den Wimpernansatz aufgetragen werden.
Längere, dichtere Wimpern
Ebenso wie das Haar sind die Wimpern dem Ausfall durch Stress und Umweltschäden ausgesetzt. Spectral.LASH+ hilft die Wimpern schützen und pflegen, indem es deren Wachstum fördert und sie befeuchtet.
STÄRKT DAS WACHSTUM IHRER WIMPERN
Wir alle wünschen uns dickere, natürliche, dichtere Wimpern, ohne sie jeden Morgen mit Wimperntusche aufpeppen oder künstliche Wimpern aufsetzen zu müssen. Mit der leichten Formel, die das schnelle Wachstum entlang der Augenlinie fördert, ist Spectral.LASH+ der beste Zusatz zu Ihrer Pflegeroutine.
Dichte, gesunde Wimpern nach nur vier Wochen
Klinische Studien belegen, dass Spectral.LASH+, die Spitzenbehandlung von DS Laboratories, für ein 25 % schnelleres Wachstum Ihrer Wimpern innerhalb von nur vier Wochen sorgt*.
Mehr Länge und Dichte
Sorgen Sie für längere, dichtere Wimpern sowie deren Wiederbelebung mit Spectral.LASH+.
Leichte Formel ohne Reizungen
Spectral.LASH+ ist mit klinisch und dermatologisch getesteten Wirkstoffen formuliert, die Ihre Wimpern anregen, ohne zu reizen und jucken. Mehrfache Wirksamkeits- und Sicherheitsstudien
Sicherheitsstudien
Ophtalmologist and dermatologist Safety Tested, Safety Status in US and EU, Consumer Skin Sensitization Patch Study. Ohne Bimatoprost und Latanoprost formuliert. Hypoallergene Formel.
Exklusives Anwendungssystem
Spectral.LASH+ verfügt über ein exklusives System, das die Verschmutzung des Serums verhindert und eine präzisere Anwendung ermöglicht, indem die exakte Dosis für jede Wimper verabreicht wird.
Advanced Nanosome Delivery System®
Unsere patentierte Technologie zur Freisetzung von Nanosomen verkapselt die Wirkstoffe in Nanosomen, die tiefer in die Oberhautzellen gelangen, um somit die bestmöglichen Ergebnisse zu erzielen.
WER BENÖTIGT SPECTRAL.LASH+?
Männer und Frauen, die sich Schutz und Wachstum ihrer ausgedünnten Wimpern wünschen
Männer und Frauen mit Hypotrichose bzw. geringer Länge, Menge und Dichte der Wimpern
ANWENDUNG:
Zweimal täglich (morgens und abends) auf die gereinigten Wimpern auftragen. Zum Verabreichen der Lösung auf die Pumpe drücken. Auf dem Wimpernansatz ähnlich wie ein Eyeliner auftragen. Nicht auf Augapfel oder Tränenapparat auftragen. Nach Anwendung einige Minuten eintrocknen lassen. Anschließend können Sie Ihre übliche Pflegeroutine fortsetzen.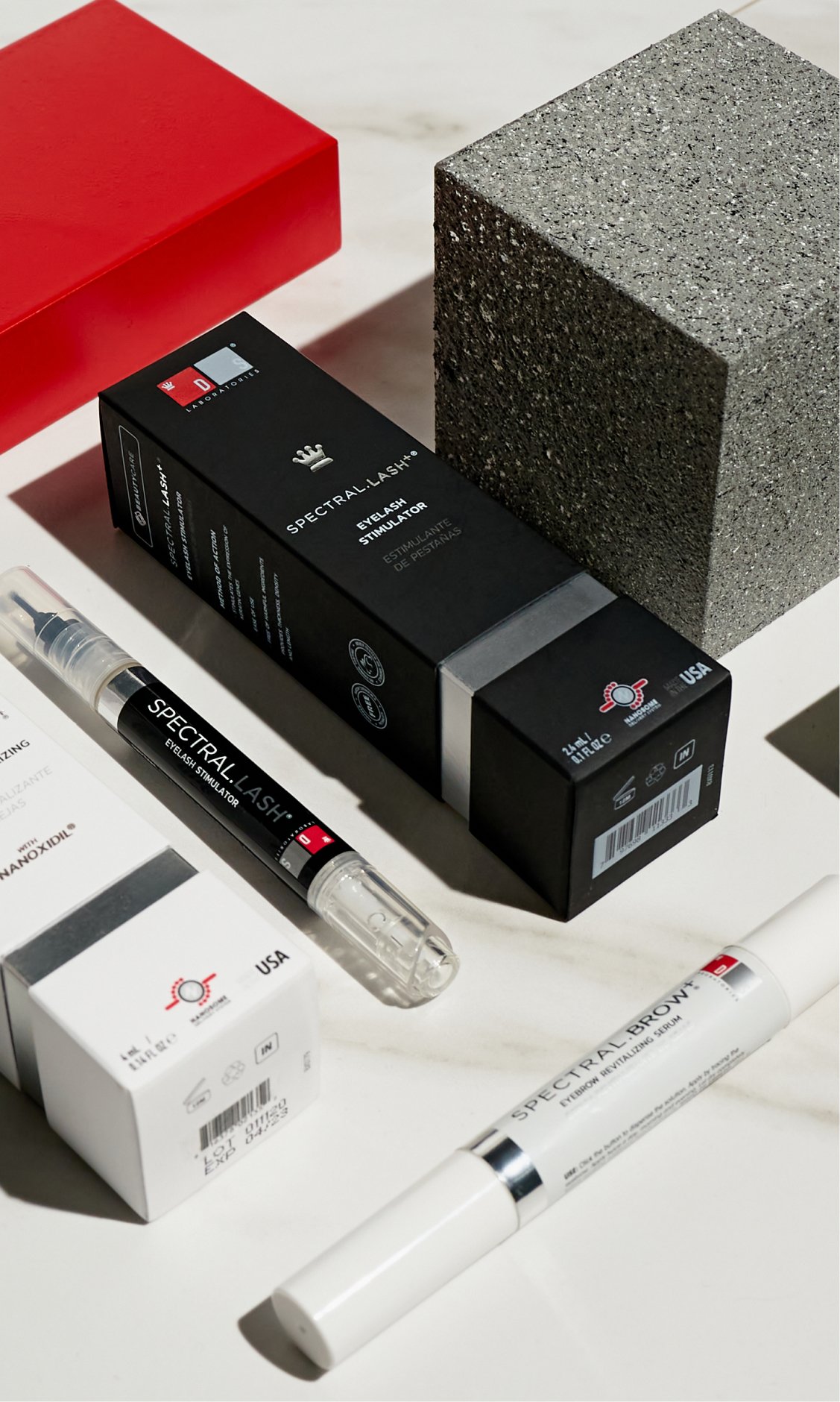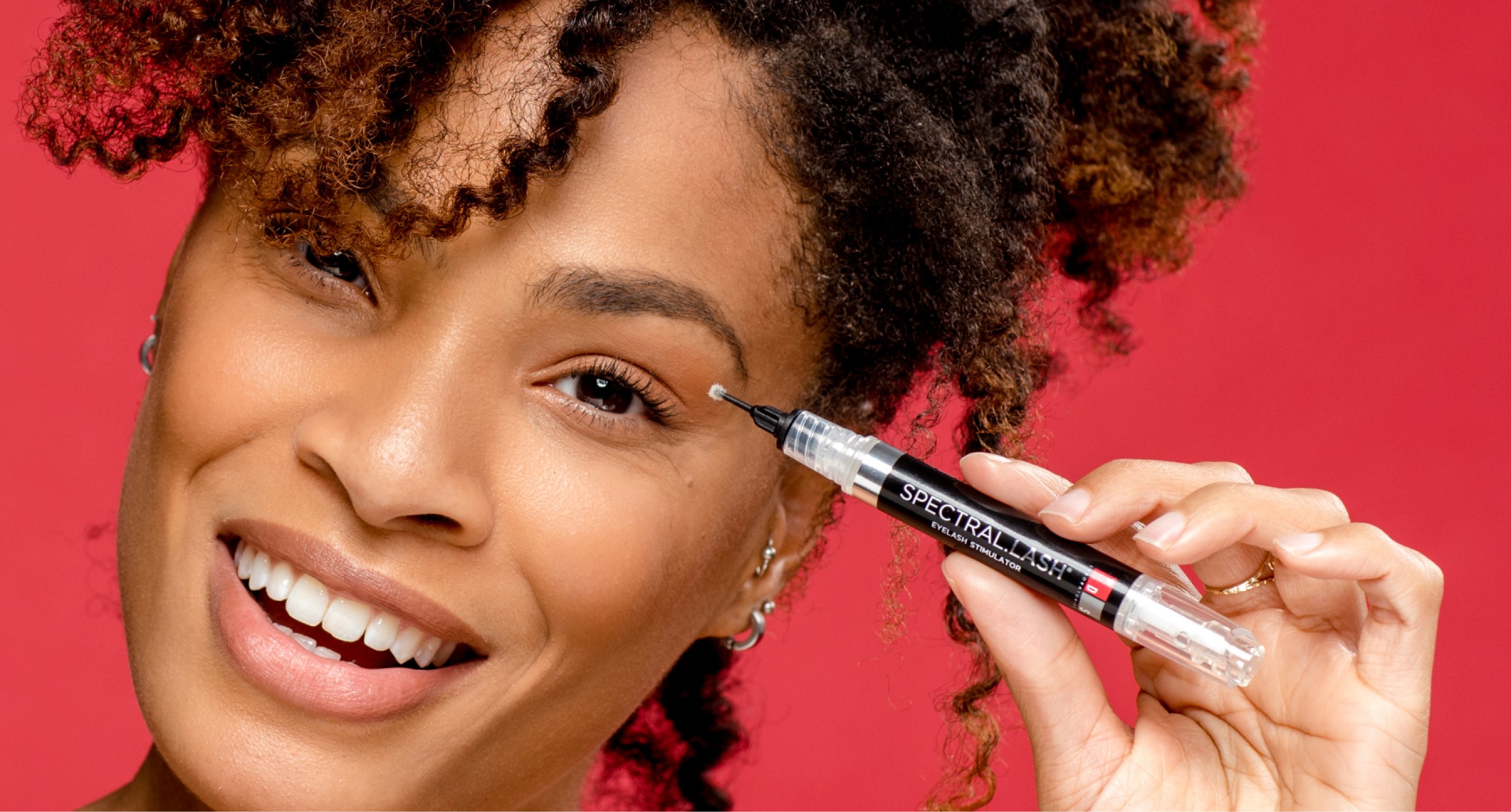 DICKERE, KRÄFTIGERE, STRAHLENDE WIMPERN
Spectral.LASH+ wurde hinsichtlich des Wimpernwachstums und der Volumenvergrößerung klinisch getestet*